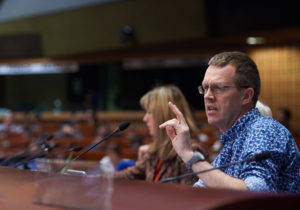 Professor Graham Smith from Westminster University was part of a number of academics who designed and ran the Democracy Matters project in 2015. This project involved two Citizens' Assemblies both considering devolution of local decision-making.
In addition to being demonstration projects around engaging everyday citizens in decision-making about local governance these two process involved slightly different designs to allow the academics involved to test the impact of having elected representatives as part of the Citizens' Assembly.
Graham explains the background to these two Citizens' Assemblies as well as the preliminary findings about the impact of having politicians as members of the Citizens' Assembly South.
For more information about the Democracy Matters project visit http://citizensassembly.co.uk/home-page/about/